BIOPHEN ANTI-Xa (2 Stages Heparin Assay)
Print Page
For Research Use Only. Not for Use in Diagnostic Procedures.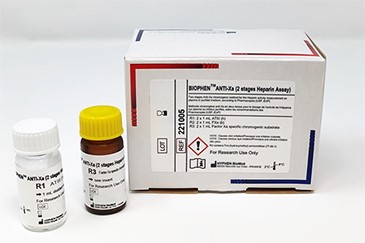 Manufacturer's Part Number:
221005
---
Product Description

This BIOPHEN™ ANTI-Xa (2 Stages heparin Assay) kit is a two-stage chromogenic assay for measuring the activity of heparins (UFH or LMWH), in manual or automatic method. This method is proposed only to test heparin in human citrated plasma, or in purified solution.

This kit is for research use only and must not be used from patient diagnosis or treatment.

NOTE: This product replaces Ref #221010 and requires separate purchase of specific buffers depending on the analyte being tested and compendia reference desired:

USP = United States Pharmacopeia
EP = European Pharmacopeia

Please see important notification letter from the manufacturer regarding the use of this product.
Information
| | | |
| --- | --- | --- |
| SKU ID# | Packaging | Website Links |
| A221005 | Kit | |
Assay Characteristics
Kit Components
Applications
R1: 2x1 mL ATIII(h)
R2: 2x1 mL FXa(b)
R3: 2x1 mL factor Xa specific chromogenic substrate
For the measurement of anti-Xa Heparin activity in research applications.

This assay, using a predilution of Antithrombin and FXa reagents in specific buffers (not provided within this kit), is in compliance with the US Pharmacopoeia (USP 40:2017) and European Pharmacopoeia (EP 9th edition 2017).

Please Note: Results obtained should be for research purposes only and not used for patient diagnosis or treatment.
Downloads