BIOPHEN Edoxaban Calibrator Low
Print Page
In US and Canada: For Research Use Only. Not for Use in Diagnostic Procedures.
In EU: This Product is CE Marked.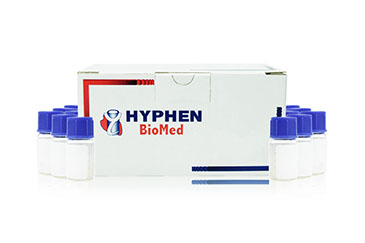 Manufacturer's Part Number:
226401-RUO
---
Product Description

The BIOPHEN™ Edoxaban Calibrator Low kit is a set of human plasmas supplemented with Edoxaban at 3 different levels intended for the calibration of Edoxaban measurements, and lyophilized. They are titrated and optimized for anti-Xa chromogenic assays such as BIOPHEN™ Heparin LRT (221011-RUO, 221013-RUO, 221015-RUO) and BIOPHEN™ DiXaI (221030-RUO).

This kit is for research use only and must not be used for patient diagnosis or treatment.
Information
| | | |
| --- | --- | --- |
| SKU ID# | Packaging | Website Links |
| A226401-RUO | 3x4x1 mL | |
Assay Characteristics
Kit Components
Applications

The Edoxaban calibration plasmas are qualified against and Internal Standard Reference, whose qualification is linked to the referenced method by HPLC-MS/MS.

The calibrators target values are determined from multi-reagent (BIOPHEN™ Heparin LRT and BIOPHEN™ DiXaI) and multi-instrument (Sysmex CS-series or equivalent) tests.

The calibrator concentrations may vary slightly from one batch to the next. For the assay, see the exact values provided on the flyer provided with the kit used.

CAL 1: 4x1 mL Lyophilized human plasma containing no Edoxaban.

CAL 2: 4x1 mL Lyophilized human plasma containing a titrated quantity of Edoxaban of approximately 50 ng/mL.

CAL 3: 4x1 mL Lyophilized human plasma containing a titrated quantity of Edoxaban of approximately 100 ng/mL.

BIOPHEN Edoxaban Calibrator Low is used to establish a calibration curve to measure Edoxaban levels by chromogenic methods (low range).

Please note: This product is intended for Research Use Only (RUO) in the US and Canada, and must bear RUO labeling per FDA regulations. Alternate CE Mark (IVD) labeling for use in countries outside the US and Canada is available below.
Streamline Laboratory Procedures
Ready-to-use reagents and buffers
, from Medicago AB. Available in tablets and pouches.
Downloads