Tris-NaCI Buffer - pH 7.4
Print Page
For Research Use Only. Not for Use in Diagnostic Procedures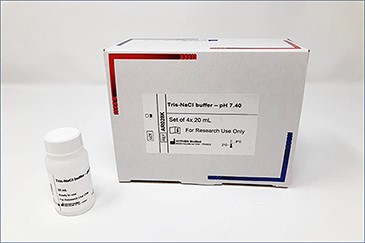 Manufacturer's Part Number:
AR028K
---
Product Description

Buffer containing Tris (Tris(hydroxymethyl)aminomenthane (6.1g/L), Sodium Chloride (8.77 g/L) and 0.9 g/L Sodium Azide (as preservative).

Can be used as buffer recommended by the USP for the assay of heparin anti-IIa and anti-Xa activity verified and validated in combination with BIOPHEN™ ANTI-IIa (2 Stages heparin Assay) (A220005) and BIOPHEN™ ANTI-Xa (2 Stages Heparin Assay) (A221005) kits.

USP = United States Pharmacopeia

Please see important notification letter from the manufacturer regarding the use of this product.
Information
| | | |
| --- | --- | --- |
| SKU ID# | Packaging | Website Links |
| AAR028K | 4x20 mL | |
| | | |
| --- | --- | --- |
| Assay Characteristics | Kit Components | Applications |
| | | |
Downloads