ZYMUTEST B2GP1
Print Page
For Research Use Only. Not for Use in Diagnostic Procedures.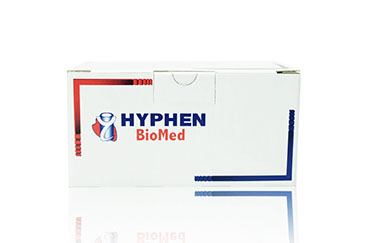 Manufacturer's Part Number:
RK022A
Shipping Weight:
2.00
pounds
---
Product Description

Two site ELISA method for the measurement of B2GPI on plasma or any biological sample where it must be measured. Assay designed with polyclonal antibodies specific for B2GPI, for coating the microplate (immunocapture) and also labeled with a Horse Radish Peroxidase (HRP) marker. This assay measures homogeneously B2GPI in plasma.
Information
Assay Characteristics
Kit Components
Applications

Total Assay Time:
2h15
Detection Threshold:
≤ 5 ng/mL
Dynamic Range:
0 to 100 ng/mL
Intra-Assay CV:
3 to 8%
Inter-Assay CV:
5 to 10%
Reference Material: Calibrator established against a normal citrated plasma pool, and against highly purified human β2GPI, which protein concentration has been precisely determined by Lowry method.

Micro ELISA Plate (12 strips of 8 wells)
2x B2F Sample Diluent
3x B2GPI Calibrator
(h) B2GPI Controls (1x high & 1x low)
3x Anti-h-B2GPI-HRP IC
1x B2F Conjugate Diluent
1x Wash Solution
1x TMB
1x 0.45M Sulfuric Acid

For the measurement of β2GPI antigen in research applications.

Please Note: Results obtained should be for research purposes only and not used for patient diagnosis or treatment.
Streamline Laboratory Procedures
Ready-to-use reagents and buffers
, from Medicago AB. Available in tablets and pouches.
Downloads