Anti-Thrombin (AT) (1 x 10 mg)
Print Page
Research Use Only.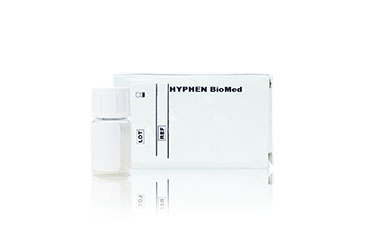 Manufacturer's Part Number:
PP004C
Shipping Weight:
0.20
pounds
---
Product Description

Purified Antithrombin (AT) from human plasma using a combination of affinity chromatographies (Grade 1).
Information
Specifications
Kit Components
Applications

Molecular Weight: 58,000 Da
Grade 1 > 60/PEU
Specific Activity > 6 IU/mg
Preserved structure and activity of the native protein
Presence of sodium phosphate and sodium chloride (can be used for covalent coupling)

Note:1 Plasma Equivalent Unit (PEU) corresponds to the amount of AT in 1 mL of human plasma, or about 150 µg. 1 PEU is equivalent to 1 International Unit (IU) when determined and standardized against the WHO/NIBSC International Standard for Antithrombin from human plasma.

10 mg, Grade 1 (2 mL) (2mL > 60 PEU)
For in vitro use only.

Recommended for any study on heparin and glycol-amino-glycans. Useful for designing heparin assays (clotting or chromogenic) where a source of ATIII is required.
Streamline Laboratory Procedures
Ready-to-use reagents and buffers
, from Medicago AB. Available in tablets and pouches.
Downloads