BIOPHEN Heparin 3
Print Page
This Product is CE Marked.
Health Canada Licensed.
510(k) Cleared for In Vitro Diagnostic Use for UFH only.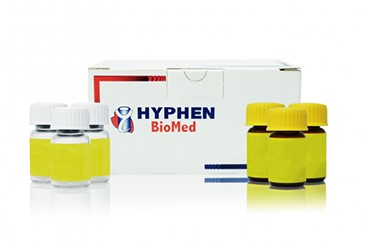 Manufacturer's Part Number:
221003
Shipping Weight:
0.50
pounds
---
Product Description

Chromogenic anti-Xa method for measuring homogeneously heparin (UFH) and Low Molecular Weight Heparin (LMWH), using the same calibration curve (kinetics method, one stage). The assay can also be used for testing heparin analogues, such as Sodium Danaparoid (Orgaran), or Pentasaccharide (Fondaparinux). Automatic or Manual method.

Product Video
Information
Assay Characteristics
Kit Components
Applications

Total Assay Time:
< 3 min
Detection Threshold:
0.05 IU/mL
Dynamic Range:
0 to 2 IU/mL
Intra-Assay CV:
< 3%
Inter-Assay CV:
< 5%
No significant interference observed for Bilirubin concentrations <0.1 mg/mL, hemoglobin concentrations <2 mg/mL and triglycerides concentrations <1.25 mg/mL added to plasma.

R1: 3x3 mL of chromogenic substrate specific for factor Xa (SXa-11), lyophilized.

R2: 3x3 mL of bovine Factor Xa, lyophilized.

Measuring the heparin concentration in patients' plasma for monitoring the therapy and adjusting drug dosage.
Streamline Laboratory Procedures
Ready-to-use reagents and buffers
, from Medicago AB. Available in tablets and pouches.
Downloads