Special Tris-BSA Buffer (12 x 25 mL)
Print Page
In US and Canada: For Research Use Only. Not for Use in Diagnostic Procedures.
In EU: This Product is CE Marked.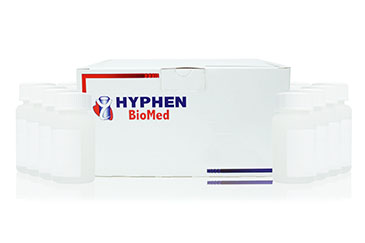 Manufacturer's Part Number:
AR026K-RUO
Shipping Weight:
0.50
pounds
---
Product Description

Buffer solution containing Tris, BSA (1%), PEG, FVIII:C stabilizers and Sodium azide (0.9 g/L) as a preservative.
Information
| | | |
| --- | --- | --- |
| SKU ID# | Packaging | Website Links |
| AAR026K-RUO | 12 x 25 mL | N/A |
Specifications
Kit Components
Applications

Ready to use
Contains 1% BSA, PEG and FVIII:C stabilizers.

12x25 mL vials Special Tris-BSA Buffer
For in vitro use in research applications.

Special dilution buffer for FVIII:C or FIX(a) chromogenic assays, especially BIOPHEN FVIII:C (Ref A221402-RUO / A221406-RUO) or BIOPHEN FIX (Ref A221802-RUO / A221806-RUO) or BIOPHEN FIXa (act FIX) (Ref A221812).

Please note: This product is intended for Research Use Only (RUO) in the US and Canada, and must bear RUO labeling per FDA regulations. Alternate CE Mark (IVD) labeling for use in countries outside the US and Canada is available below.
Streamline Laboratory Procedures
Ready-to-use reagents and buffers
, from Medicago AB. Available in tablets and pouches.
Downloads