USP-EP Anti-FXa & Anti-FIIa Assay For UFH Buffer with PEG, pH 8.4, 1000 mL
Print Page
Medicago AB Products Are Available Worldwide
For Laboratory Use Only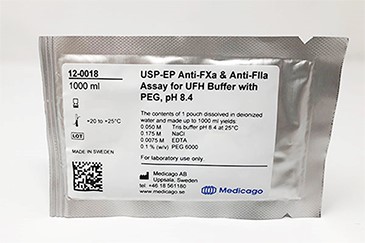 Manufacturer's Part Number:
12-0018
---
Product Description

Pre-weighed powder mix in sealed pouch (Store at 20-25°C). The contents of 1 pouch dissolved in

1000 mL

of deionized water yields:

0.050 M Tris Buffer pH 8.4 @ 25°C, 0.175 M NaCI, 0.0075 M EDTA, 0.1% (w/v) PEG 6000.

For use as dilution buffer for standards, samples, AT, FXa, thrombin, and blank in USP and EP methods for Anti-FXa and Anti-FIIa activity assays for Unfractionated Heparin (UFH).

USP = United States Pharmacopeia
EP = European Pharmacopoeia

NEW NAME! This product was previously named USP Anti Factor Xa Activity Buffer, pH 8.4 (no change in formulation).