BIOPHEN Protein C 5
Print Page
In US: 510(k) Cleared for In Vitro Diagnostic Use.
In EU: This Product is CE Marked.
Health Canada Licensed.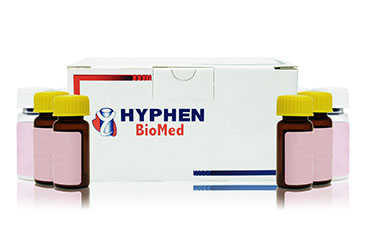 Manufacturer's Part Number:
221205
Shipping Weight:
1.00
pounds
---
Product Description

Chromogenic assay for the measurement of Protein C (PC) activity in human plasma, following activation with Protac, a specific enzymatic activator extracted from snake venom (Agkistrodon C. Contortrix). Automatic or Manual method.

Product Video
Information
Assay Characteristics
Kit Components
Applications

Total Assay Time:
≤ 10 min.
Detection Threshold:
≤ 5%
Dynamic Range:
0 to 100 %
Intra-Assay CV:
< 3%
Inter-Assay CV:
< 5%
No significant interference observed for heparin concentrations < 1 IU/mL, Bilirubin concentrations < 0.1 mg/mL, hemoglobin concentrations < 1 mg/mL and triglycerides concentrations < 1.25 mg/mL.

R1: 4x5 mL Protac.

R2: 4x8 mg of Chromogenic substrate, specific for Activated protein C (SaPC-21).

Diagnosis of congenital or acquired Protein C deficiencies.

Protein C concentrates.
Streamline Laboratory Procedures
Ready-to-use reagents and buffers
, from Medicago AB. Available in tablets and pouches.
Downloads