Human Thrombin (10 x 100 NIH)
Print Page
Research Use Only.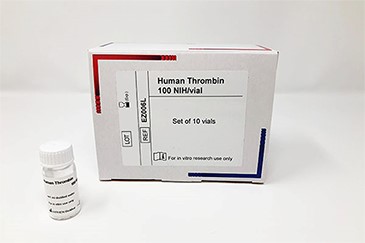 Manufacturer's Part Number:
EZ006L
Shipping Weight:
0.50
pounds
---
Product Description

Purified human Thrombin, mainly in the α form. Prepared by activation of highly purified Prothrombin, in presence of factor Xa, V and calcium, then specifically purified and stabilized.
Information
Specifications
Kit Components
Applications

| | |
| --- | --- |
| Molecular Weight | 35,000 Da |
| Stability after reconsitituion. | > 7 days |

10x100 NIH human Thrombin, lyophilized.
For in vitro use only.

Recommended for research protocols where a source of highly purified and characterized (h)-thrombin is necessary, and for studies on anti-thrombin activities.
Streamline Laboratory Procedures
Ready-to-use reagents and buffers
, from Medicago AB. Available in tablets and pouches.
Downloads